At one time or another, we've all submitted information over the internet to a business — usually through a web form. Perhaps you filled in your name, email address, physical address or phone number, or maybe even sensitive personal information like your Social Security Number, credit card number, or a password.
It's now industry standard for businesses requesting personal or sensitive information over the internet to secure the transfer of data through their website with a security certificate, or SSL, to ensure the data transaction is encrypted and safe from third-party interception. When you connect to a website over an encrypted connection, and a valid security certificate is in place, the website address will display with 'https' at the beginning. Nearly all modern web browsers also indicate that it's a secure connection by displaying a lock icon, or a similar visual identifier.
Users often make the logical assumption that if their personal information is being guarded by a company, the business must be reputable and trustworthy. Metaphorically speaking, you wouldn't deposit money in a bank that had no walls, right? Having a secure contact form gives potential customers an extra level of confidence in your business.
Although many of 43Leads' clients don't collect ultra-sensitive data through their contact forms, we offer all of our clients industry-standard 128-bit encryption and SSL security on every form submission. So every single lead capture page and contact form hosted on the 43Leads platform is safe and secure, regardless of data sensitivity. This is just one of the many features we've incorporated into our fully managed, hosted solution to capture leads on your website.
To assure your customers that their form submission is secure, we include a security badge from our SSL provider on every contact form. It usually looks like this: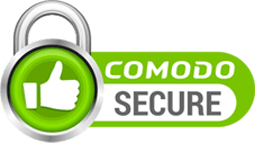 If a hosted contact form solution would benefit your small business, contact us to learn more about the full complement of features we offer to give your website the best in lead capture.